Iran UNESCO World Heritage Tour
This itinerary covering most of the magnificent UNESCO World Heritage Sites of Iran starts from Tehran going through most important cities, ending in Tehran forms a wonderful round trip. This is a perfect tour for Iran's second travelers.
Tour Include
Service to obtain the Iran visa tracking code
15 Nights' Accommodation in 3* and 4* Hotels 
Breakfasts
5 lunches or dinners
Domestic Flight Shiraz to Tehran
Travel Insurance
English Speaking guide
Transportation
Tour Exclude
International Airfare
Visa stamp fee
Entrance fees to the attractions
Meals
Tips & Portages
Extra fee for Americans, Canadians and the English
Iran Salam!
Arriving in Tehran, that has been Iran capital after the Qajar Era. Based on your arrival time, we will visit the Azadi tower, the symbol of freedom in Tehran.Overnight in Tehran
We will have a full day city tour of Tehran to visit Golestan Palace (UNESCO heritage site), consists of 17 palaces, museums and gardens. The Archaeological or National museum, Jewelry museum and Carpet Museum are our next attractions. We also visit Traditional Bazaar.
Overnight Tehran
In the morning drive to Kashan (about 2:40' drive) star our sightseeing by visiting Tabatabaie and Borujerdi traditional houses, outstanding 18th, and 19th-century traditional pavilions. Exploring Kashan old bazaar includes several buildings where you can find Beautiful Persian handicraft. Fin garden the oldest living garden of Iran, and the UNESCO heritage site is our next destination.
Overnight Kashan
Day 4: Kashan - Abyaneh - Isfahan
Drive to Isfahan in the morning. In Isfahan, we will visit Naghsh-e-Jahan Square, the second largest square of the world and registered as a UNESCO heritage site surrounded by 4 monuments i.e. Lutfallah Mosque, Ali Qapu Palace, Shah Mosque and Qeysarye grand bazaar.  At the Ali Qapu Palace, you will find a gorgeous Music hall.
Overnight Isfahan
In the morning we visit the magnificent Jame Atiq Mosque dates back to the 8th century and Chehel Sotun Palace which was built in 1647 that both f the highlights are UNESCO heritage. Afterward, we drive to Yazd (about a 4-hour drive).
Overnight Yazd
we will spend a whole day discovering the adobe city of Yazd one of the oldest in the world. Start our sightseeing with a short walk in the old town (Registered as UNESCO heritage site) in the narrow alleys of Fahadan. Visiting Amir-Chakhmaq complex, Zoroastrian Fire Temple, Jame Mosque and Dowlat Abad Garden with its giant wind catcher (the UNESCO heritage site). We will visit Zoorkhane a place for traditional Persian sport during the evening.
Overnight Yazd
Day 7: Yazd- Kerman - Shahdad
Drive to Kerman visiting en-route Tower of Silence a kind of old cemetery. Kerman owns the most UNESCO sites in Iran. Visiting Zeinodin caravanserai then we drive to Shahdad desert the natural UNESCO site to visit its scenic landscape.
Overnight in a local house in Shahdad

Day 8: Shahdad - Kerman -Meymand
Drive to Mahan to visit the Shazdeh Garden (UNESCO Heritage Garden) and Shah Nematolah-e Vali Shrine. Drive to Meymand the village of cave dwellers and the UNESCO heritage site.
Overnight Meymand
In the morning, we drive to Shiraz. En-route we will visit Pasargadae, the Capital of the ancient Persian empire and the Tomb of Great Cyrus, Persepolis and Naghsh-e-Rostam are our next destinations. All the sites are registered in UNESCO.
Overnight Shiraz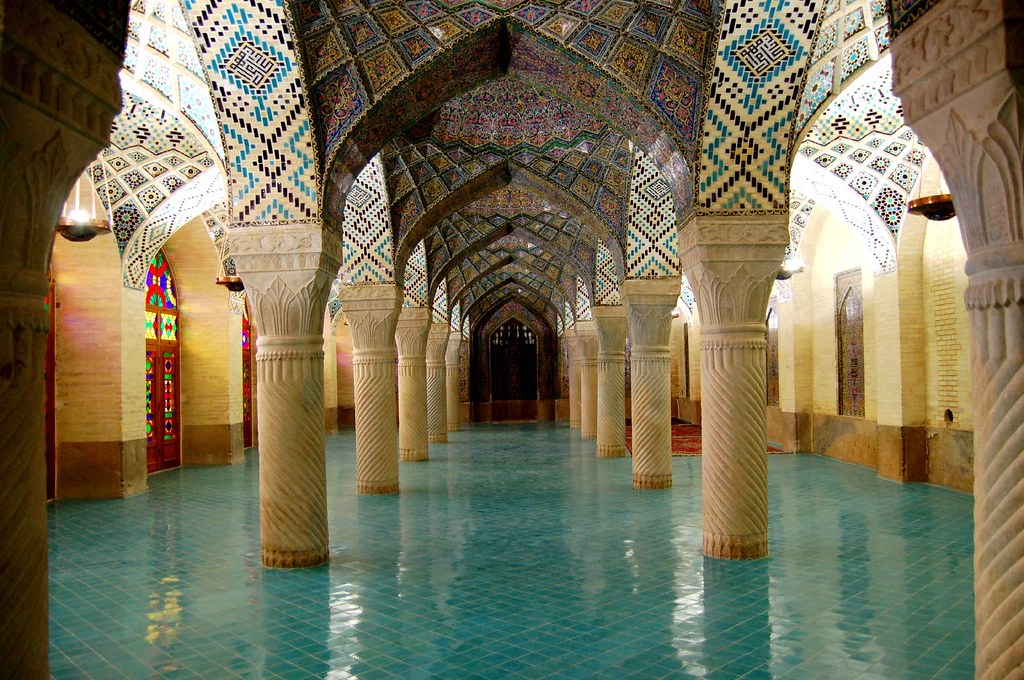 Shiraz has many historical and cultural monuments. In the morning we will visit the Nasir Almolk Mosque popular as Pink Mosque. Narenjestane Ghavam Garden with its magnificent pavilion and Zandieh complex (Karim khan's citadel, Vakil mosque, Vakil bath and Vakil bazaar) are our next destinations. Afterward, we will visit the UNESCO site of Eram Garden and Hafez& Saadi tombs, the most famous Iranian poets.
Overnight Shiraz
Day 11: Shiraz - Ahvaz- Shooshtar
Flight to Ahvaz (the flight time is different every day). Then drive to Shooshtar (1:40' drive).
Overnight Shooshtar
Visit historical hydraulic system belongs to the Sassanian era with an irrigation system and has been registered by UNESCO we also visit Salasel Castle. Drive to Susa (UNESCO heritage site) where you can visit the ruins of Achaemenian Palace of Apadana. Visiting Chogha Zanbil (Ziggurat) the ancient Elamite sacred complex dates back to 1250 BC built by King Untash-Napirishia and it is in UNESCO heritage list.
Overnight Susa
Day 13: Susa - Kermanshah
Drive to Kermanshah (about 5-hour drive) in the morning to visit the Achaemenian reliefs of Bisotoun a UNESCO site at the entrance of Kermanshah.
Overnight Kermanshah
Day 14: Keramshah - Takab
Drive in the morning to Takab (about 5-hour drive) to visit UNESCO world heritage site of Takht-e Soleyman includes the remains of a fire temple of the Sassanian era, Anahita temple and a lake with many stories behind it.
Overnight Takab
In the morning we drive to Zanjan (about 3-hour drive). There, we visit Rakhtshooy Khaneh Edifice (traditional laundry), Salt men Museum and the old Bazaar.
Overnight Zanjan
In the morning drive to Tehran, we visit Soltaniyeh Dome on our way to Tehran, an octagonal building that is crowned with a 50-meter-high dome covered in turquoise faience. That is another UNESCO heritage site. Then transfer to international airport for departure flight.
The itinerary on this day may change regarding your departure time.