Located in the southeast of Iran, Kerman is a familiar name for tourists and a routine travel destination in Iran. From thousand years ago, since Achaemenes Empire, Kerman used to be a capital city, and people from Kerman are called the first powerful Persian tribes by the Greek historian "Herodotus."
3 Must Visit Places in Kerman are;
Bam Citadel, the world's largest adobe building
Bam ancient castle was built on the Silk Road 500 B.C, and it was still in use until 1850. After being almost destroyed in 2003, Bam citadel reconstructed with the supports of UNESCO. And today, the glory of this ancient city is appreciated by the visitors more than before.
Dasht-e Lut;
 Being one of the top 30 largest deserts on earth, it also has a variety of dune types and deserts such as; crescentic ridges, star dunes, complex linear dunes, funnel-shaped dunes.
Kalut Shahdad desert a critical part of Lut desert is located in Kerman, and every year so many tourists visit the site, do desert trekking, safari and enjoy sleeping in a desert camp.
Shazdeh Garden;
Kerman is not all desert. Shazdeh Garden, which also Known as Prince garden, is located in the small city of Mahan. Shazdeh is one of the Old Persian Gardens Group that is famous for its beauties over the year.
Besides these famous attractions of Kerman, there are other must-visits in Kerman, like Rayen citadel and waterfall, Fath-Abad garden, Ganjali Khan Complex.
Best Kerman Tour Packages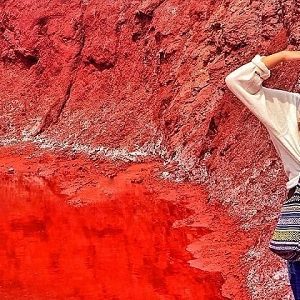 Adventure
Shiraz >Qeshm >Bandar Abbas >Kerman >Isfahan >Kashan>Tehran
Travel and holidays in Iran: discover with us the best of Persia.
Read More »
When is the Best Time to Travel to Iran Desert, Kerman?
The best time to visit Kerman Province is about 20th March – 20th May and 2nd September – 2nd October. 
The best time to do desert trekking in the Dasht-e Lut is from 20th November to 20th February.
From 1st June to 1st September, Kerman weather reaches to the warmest level, and it's not a good time to visit the city and attractions nearby Kerman.