Iran one of the world's oldest civilizations and the home to glorious historical and cultural monuments has more to offer. The beautiful diverse nature including mountains, forests, deserts, and islands makes this country a marvelous destination. Accordingly, between the most prominent Iran destinations are the islands located in the Persian Gulf. Iran's gorgeous islands with the rich underwater world, colorful cliffs, and picturesque beaches offer a world of mystery.
Qeshm Island
Qeshm is the largest island in the Persian Gulf, and besides its numerous historical, natural, religious and trade attractions, it has always been a popular Iran destination among tourists due to its tranquility and silence. The island is so unique in terms of geology, fauna, flora culture, costumes, and cousins which attracts millions of tourists every year. There are smaller islands in the vicinity of Qeshm in the Persian Gulf, which the most important are Hormuz, Hengam, and Naz.
Moreover, due to Qeshm's and its islands' free trade zone status, all the foreign travelers can visit this Iran destination without a visa for 14 days.
Hormoz Island
Hormoz is a small tranquil island with a dreamy nature, you can see shades of red, yellow, and orange color on the land area, which contrasts with the Persian Gulf's blue water. Furthermore, this small island is the home to special fauna.
Hengam Island
Hengam Island is about 33.6 sq. km and made of lime hills. On the beach, there are particles of a kind of shiny mineral that have settled in the sand and give a luminous appearance to the beach.
During some seasons, at night, the water turns to bright blue and gives the island's beach a magical view. Such a phenomenon that occurs on the coasts of the Maldives and California is due to the exitance of a kind of phytoplankton.
Naz Island
Naz island located in the east of Qeshm is surrounded by cliffs and has no habitants. At the time of low tide, a narrow one-kilometer passage of land connects Naz to Qeshm Island.
Best Iran Islands Tour Packages,Excursions; Activities 2020 - 2021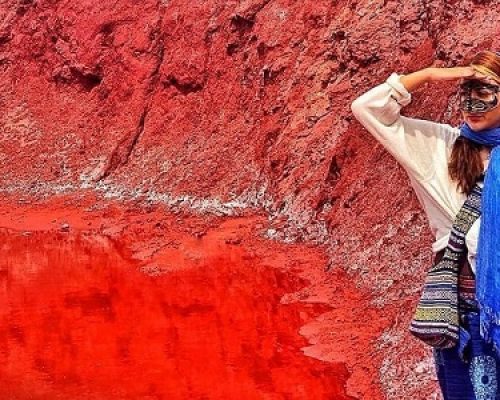 Adventure
Shiraz >Qeshm >Bandar Abbas >Kerman >Isfahan >Kashan>Tehran
Travel and holidays in Iran: discover with us the best of Persia.
When is the Best Time to Travel to Qeshm Islands?
The Island of Seven Wonders, Qeshm and other Islands located in the Persian Gulf are known as the best travel destination in southern Iran. When Northern Iran is having heavy snow and winds, the weather in Persian Gulf Islands is cool and vernal.
Overall the best time to visit Qeshm Natural beauties, do diving and walk-in Valleys is February to Mid-April and October to Mid-November.
Qeshm Island has sultry weather from late April to early October and is not a good time for visitors. However, if you Travel to Qeshm Island for Shopping or Business? Then Enjoy the cheapest tour package of Qeshm Island in June, July, and August.


If you are interested in visiting a special Natural event like Hawksbill sea turtle hatching, The New Year of Fishermen and etc, please consult with our team Travel Consultants.