Being one of the Top Iran Destinations, Shiraz attracts tourists from all over the world to visit this stunning city.
Shiraz is located in a flat, surrounded between several mountains, which has brought a moderate climate to it, making this city a travel destination for all seasons. Moreover Shiraz and its surrounding have the best of collection in historical complexes, Poetry and Gardens, Mosques and Royal houses.
Here you'll find simplified Shiraz Travel Guide, ways to get there and the top 10 places to visit in Shiraz. 
Best Shiraz Tour Packages, Excursions & Activities 2023
Adventure
Shiraz >Sepidan >Yasuj >Shahrekord >Isfahan >Abyaneh >Tehran
In this tour, you will visit nomads and stay in the local houses.
Photography Tours
Tehran >Kashan >Isfahan >Yazd >Shahdad >Meymand >Shiraz >Shooshtar >Susa >Kermanshah >Takab >Zanjan >Tehran
This itinerary covering most of the magnificent UNESCO World Heritage Sites of Iran.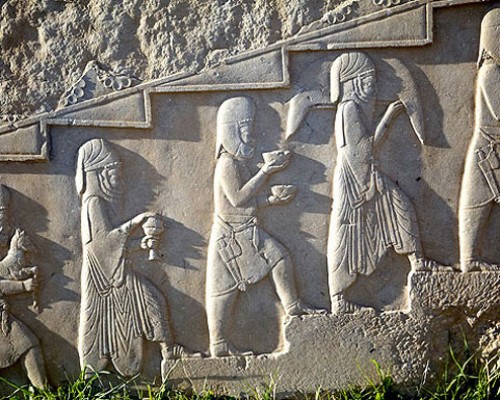 Adventure
Tehran >Hamedan >Kermanshah >Khorramabad> Shushtar> Yasuj> Shiraz >Yazd> Isfahan >IKA
Iran historical tour is a round trip to the Unesco world heritage sites in classic route and west Iran.
When is the Best Time to Travel to Shiraz?
Shiraz is best to be seen on April-May, when the streets and alleys are filled with flowers and flower smells, these two months are known as the peak season.  Due to high volume of travelers in this period, consulting with travel experts and pre -booking tours to Shiraz is highly recommended.
March, September and October are high season in Shiraz, the weather is pretty moderate and nice.
February and November also have nice weather, a bit cool at night and mid rainy in some days, but less crowded and you'll find affordable Shiraz tour packages in these months.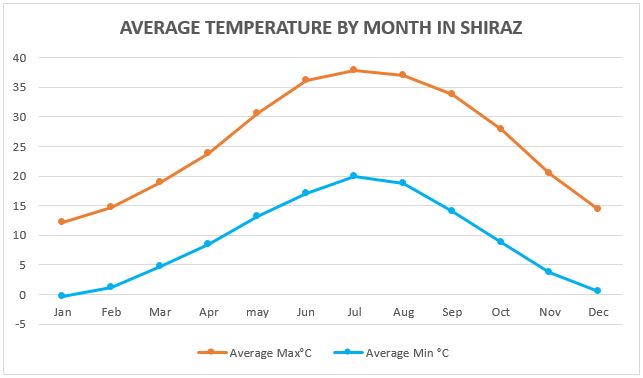 Although Shiraz does n't have heavy rains and snow on December and January, it gets cold.
On June, July and August the weather in Shiraz gets extremely hot and we don't recommend traveling on these months. You'll find the cheapest tours of Shiraz in this period.
20 June – 21 July with the average temperature of 35 degree is the hottest weather and 22 December – 20 January with the average temperature of 5 degree has the coldest weather in Shiraz.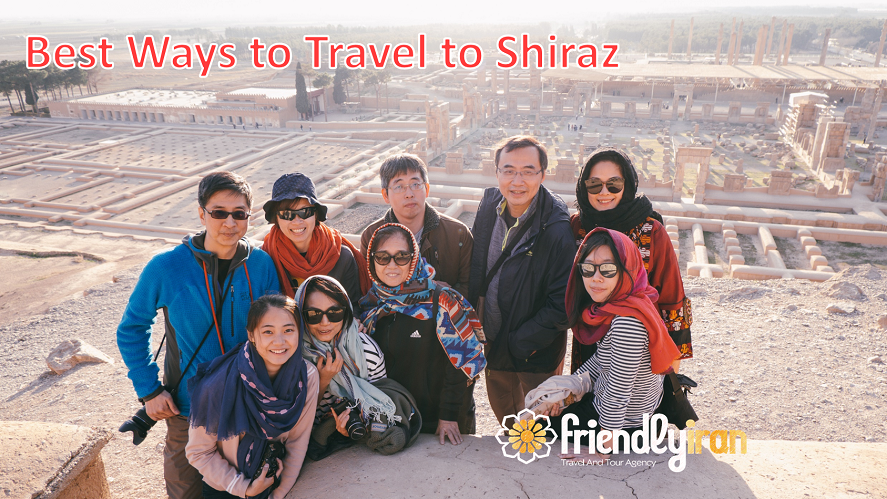 How to reach to Shiraz by Flight/Train:

Shiraz is located in southwest of Iran and through south Iran countries has land and sea access. There are daily, weekly direct flights to Shiraz from Dubai, Istanbul, Mumbai and so many other cities around the world.
Train:
There are several daily trains from Mashhad and Tehran to Shiraz, offering best of services and very comfortable transportation with different level for all passengers.
Shahid Dastgheyb Shiraz International Airport has one of the most equipped and well navigated airports in Iran, having daily direct flights from Tehran, Mashhad, Qeshm, Rasht and weekly flights from Tabriz, Ahwaz, Bushehr, Bandar-Abbas, Esfahan, Kerman.
Dubai to Shiraz
Istanbul to Shiraz
Muscat to Shiraz
Best Restaurants & Foods in Shiraz
Best places to visit in Shiraz