Shiraz is beautiful city and is The Cultural Capital of Iran that must to see if you are traveling to Iran.
It can be said that 99 % of the tourists do like to travel to Shiraz..Here are list of top things to do in Shiraz.Follow US:
1-Zand complex: that is include Citadel,Bath,mosque and traditional Bazaar,which is located in the center of Shiraz in Zand street among the oldest streets of Shiraz and near to The most and best hotels of this city. The Arg of Karim Khan or Karim Khani Citadel that resembles of medieval fortress from out view and with Iranian traditional building and yard in interior part. This building is built in Zandiyeh Dynasty by Karim Khan who was a sincere king and is famous for his loyalty to the people and in one of room you will face with some Statue of king and other people that is like retold you the story of their life.
Bath of Karim khan: is Iranian traditional bath that turned into museum. In this museum that full of statue, you will introduce with Iranian culture and traditional life style of them.
Vakil mosque: There are places of worship with extraordinarily beautiful in design and form that shows the art of Iranian. The iwans and court are decorated with typical Shirazi haft rangi tiles and you can take beautiful photo in this place and enjoy your time.
Traditional Vakil Bazaar: In the past this bazaar was main store center of Shiraz and today become preferable place for the youths to go shopping or have gatherings because it has still kept its traditional and old environment. This bazaar has old shops to buy all kinds of Persian rugs, spices, copper handicrafts and antiques.
The entrance of each site is about 7 dollar and it is open from 8 A.M. to 6 P.M. But Bazaar is free and open until 8:00 p.m.
2-Tom of Hafez: Shams-od Din Mohammad, known as Hafez (1315 – 1390 AD), His famous book is Divan (an anthology of poems), Today, he is the most popular poet in Iran. As the author of numerous ghazals expressing love, spirituality, and protest, he and his work continue to be important to Iranians, and many of his poems are used as proverbs or sayings.
Many Persian composers have composed pieces inspired by Hafez's poems.Today use Divan of Hafez for fortune telling. Iranian families usually have a Divan of Hafez in their house and when they get together during Nowruz or Yalda open the Divan randomly and read the poem of that page, they believe that the poem on that page actually matches what happens to them in the future. Hafiz's tomb is in Shiraz and considered as one of the major tourist attractions. Many of the poets like Goethe and Nietzsche has been influence by him and many people around the world know him and his poetry.
This place with traditional Architecture with traditional coffee would be good choose to visit in Shiraz.
The entrance is about 7 dollar and it is open from 8 A.M. to 9 P.M.
3-Nasir ol molk that named in popular culture as the Pink Mosque,due to the usage of considerable pink color tiles for its interior design. The stained glass windows capture the morning light and create a glorious play of light on the floor of the mosque.this place is interesting place for all photographer.
The entrance is about 5 dollar.
4-Eram Garden: It is a historic Persian garden in Shiraz,and resembling of Heaven with many cypress trees, a magnificent building, a hall decorated with mirrored facets, a fine stone edged pool and poems from the poet Hafez. It was designed by a local architect, Haji Mohammad Hasan.Today it's open to the public as a historic landscape garden and house museum.
The entrance is about 7 dollar and it is open from 9 A.M. to 6 P.M.
5- Takht_e Jamshid Or Persepolis is one of the masterpieces of Iran ,that belongs to history of all people around the World. Persepolis is in Fars province,And located 10 kilometers north of Marvdasht and 57 kilometers of Shiraz.
UNESCO declared the ruins of Persepolis as World Heritage Site in 1979.Archaeological evidence shows that the earliest remains of Persepolis date back to 515 BC, And some well-known archaeologists believe that the reasons behind the construction of Persepolis were the need for a majestic atmosphere, a symbol for their empire, and to celebrate special events like Nowruz(the name of the Iranian New Year that is the first day of spring).
6-Ghalat: If you have planned to visit Shiraz, do not miss visiting the village of Ghalat. This village is located 36 kilometers far from Shiraz in north west of this city. It takes 42 minutes to go from Shiraz to this city.
Having nice climate has turned this village a very beautiful and comfortable place for visitors who want to go on a trip. Even travelers and native people of this area choose this village for spending their weekend there. This place is mountainous and you will see several houses in stair type of structure. Tall trees have covered the view of these houses. The nature of this village is truly beautiful. The green lands, winding alleys and the sound of waterfalls shows how intact the village is. It will attract you to walk on foot around the village.
As you are walking it feels as if you are the first person who discovered these alleys. Walking by every alley you will face vacant cities which as old as the village itself. Old churches, water mills and handcrafts like baskets, Give(kind of shoes), Mashk and wood crafts are all attractive concepts In Ghalat.
After walking in untouched sites of this region you can take some rest in traditional café and restaurants which are designed with woody decoration. You can try Iranian food or tea. In spring and summer you can sit on the roof of these cafes and look at the blue sky, mountains, and long trees while listening to music. It will give a fantastic moment. In winters every where is covered with snow. Its falls are as colorful as you can not imagine, you may never stop taking pictures from its beauty.
7-Faloodeh Shiraz: Faloodeh or Paloodeh is an Iranian cold dessert that you will find best of it in Shiraz. It is often served with lime juice or albaloo syrup.it's like white pasta,in fact is consisting of thin vermicelli noodles made from corn starch mixed in a semi-frozen syrup made from sugar and rose water.
You can taste best of this Faloodeh in store behind of Arg karimkhan is about 1 Dollar per bowl and also you can buy mix of faloode with traditional ice cream.
8-Kalampolo: Kalam polo is a type of delicious mixed Persian rice. Kalam means cabbage. the basic ingredients are cabbage, meat, and rice.the meat in small size like meat ball.for sure taste is local food as when you are in Shiraz.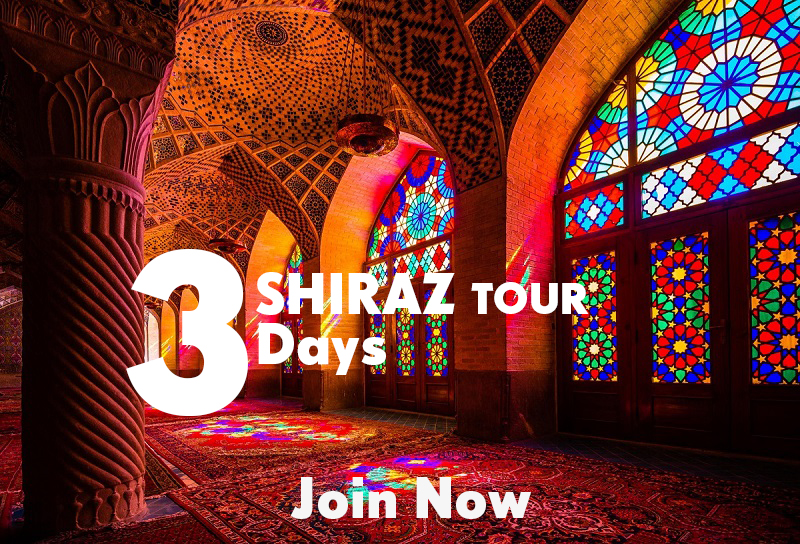 Tags:
3 days Iran tour
,
Arg karimkhan
,
Cultural tour
,
Iran
,
karimkhan
,
Shiraz
,
shiraz tour
,
shiraz tour agency
,
shiraz tour guide
,
shiraz tourism
,
shiraz tourism information
,
shiraz tourist
,
shiraz tourist attractions
,
shiraz tourist map
,
shiraz tours
,
shiraz tours and travels lucknow
,
Vakil Bazaar
,
visit shiraz
,
Zand complex