Iran's gastronomy has a traditional and historical background which has influenced the food culture of different regions! The popular cuisine of the north is best to serve in northern cities and the nomadic food of Turks is best to be experienced with Turkish nomads! Thus, it's good to know the best dishes you must try in Iran and where to eat!
Here you can find 10 top dishes you must try in Iran!
Overlook on Iranian food and Drinks you can find here; Iran Food and Drink Guide!
If you are interested in Iran culinary tours and food activities, check out Iran Food Tour.
1. Kalam Polo Shirazi with Meatballs!
Kalam Polo is the traditional food of Shiraz, it's a mixture of fried meatballs and cabbage with rice! It's a delicious cuisine served with Shirazi Salad! And sometimes with herbal beverages!
Where to eat Kalam Polo Shirazi?
Haftkhan Restaurant complex is one of the best places you can eat Kalam Polo! However, there are other restaurants like Qavam Restaurant, Soofi chain restaurants, or Shater Abbas Restaurant, where you can order Kalam Polo!
Vegetarian/ Vegan tip: This food doesn't contain stew and sometimes you can ask the restaurant to bring the meatballs in a separate plate for you! There are always hungry cats on the street to enjoy the meatballs!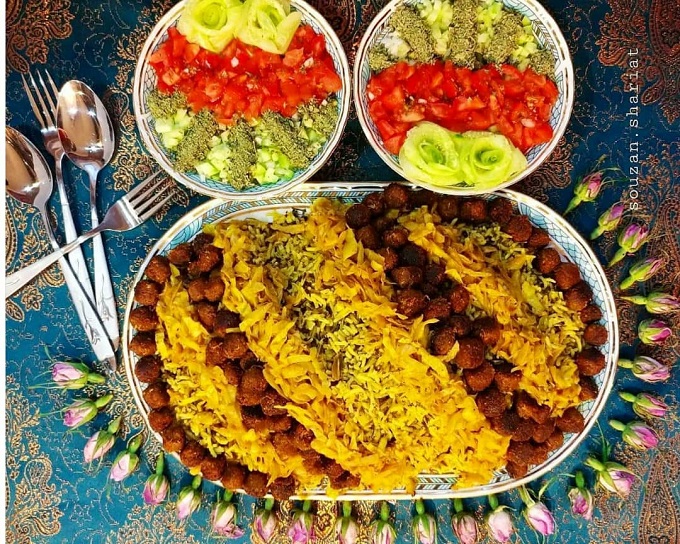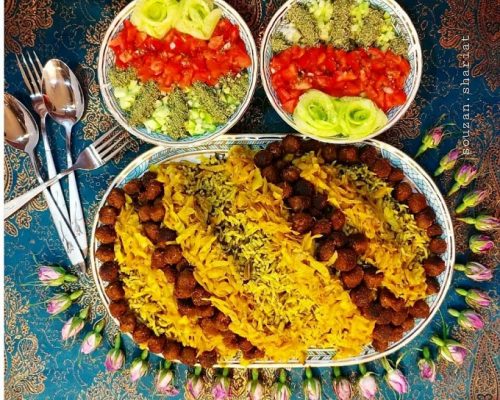 2. Beryani! Eat Isfahan!
Everyone knows Isfahan with Biryani!
Biryani is an Isfahani food cooked with lamb and tail fat! So delicious and tasty!
Best restaurants to eat Biryani in Isfahan are Azam Biryani and Haj Mahmoud Biryani.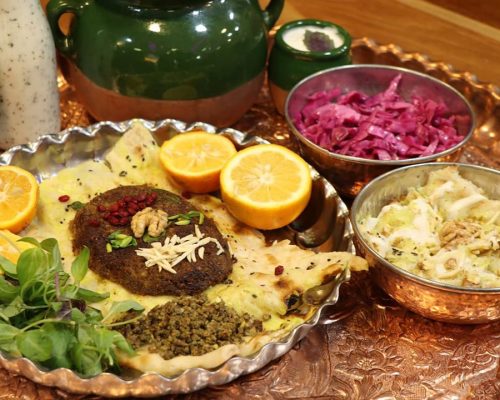 3. Tah chin
A freelancer in Food world! Originated in no specific place in Iran! Although one of the most popular cuisines!
Tahchin is a kind of Rice cake, with chicken/lamb, saffron yogurt and fried barberry! Once you try it you'll be a big fan!
You can have Tahchin in almost all traditional restaurants; like Hestooran restaurant of Tehran, Kohan Restaurant in Shiraz, Khangostar Restaurant in Isfahan.
Not vegetarian friendly! But if you plan to cook it at home you can use fried eggplants instead of chicken and it'll taste good!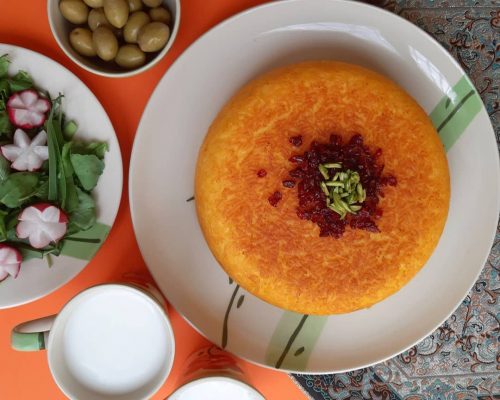 4. Ghormeh Sabzi
One of a kind food that its smell fills your head and you cannot forget about! Ghormeh Sabzi is a stew with lamb, fenugreek leaves, beans, and Persian limes and it's served with rice.
In Ramadhan and other religious events, some give away Ghormeh Sabzi for good. Iranian believe giving away food (normally to poor people) will make their wish come true!
However the best Ghormeh Sabzi is homemade, you can have a tasty Ghormeh Sabzi at good traditional restaurants all over Iran. Like; Divan restaurant in Tehran, Parhami Traditional House in Shiraz, Isfahan Shahrzad Restaurant.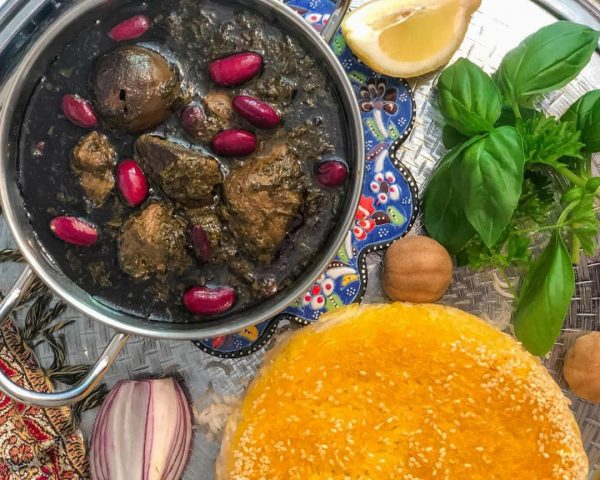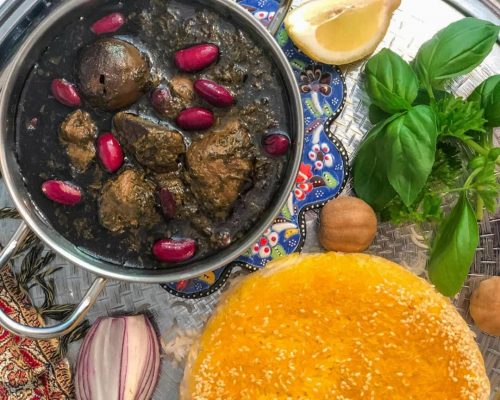 5. Falafel
A typical street food, a great option for vegetarians!!!
Falafel is originally an Arabic cuisine. Abadan, one of the southern cities of Iran is known to have the best Falafel in Iran. Though in other cities you can also find this inviting food.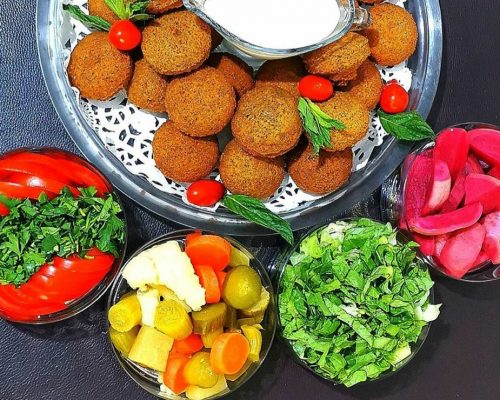 6. Kebab in Iran!
Kebab is a regular dish at the Iranian restaurants menu! If you enjoy eating meats that are separately served, like steaks, you would probably love Kebab as well.
It's always good to know the difference between kinds of Persian Kebab to have the best choice:
Joojeh kebab: Pieces of chicken meat with or without bones.
Koobideh Kebab: Ground chicken or lamb meat.
Soltani Kebab: A mixture of beef kebab and chicken kebab.
Sour Kebab: Chicken Kebab served with pomegranate juice and walnuts.
Chenjeh Kebab: fresh lamb meat which is cut in cubic forms.
All kinds of Kebab can be served with rice or bread.
You can have a great kebab all over Iran! Yet, talking about the best place to have kebab in Iran, the northern part of Tehran, in Darband springs to mind.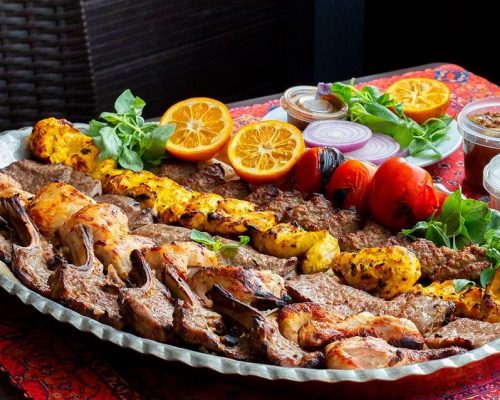 7. Ash Reshteh!
It's what everyone needs in cold winters! Ash Reshteh is a kind of soup, a rich source of vegetable protein, and the best option for wintertime!
Rice noodles, herbs, peas, beans, and sour yogurt the main ingredients of Ash Reshteh.
Is it Vegetarian? Sometimes people cook Ash Reshteh with meat, sometimes only with the meat stew and sometimes with none! 
You can have well-cooked Ash Reshteh at some popular restaurants or small café shops, like Hestooran restaurant in Tehran, Qavam restaurant in Shiraz! Ash Reshteh might be a seasonal meal of the menu. So better to ask first!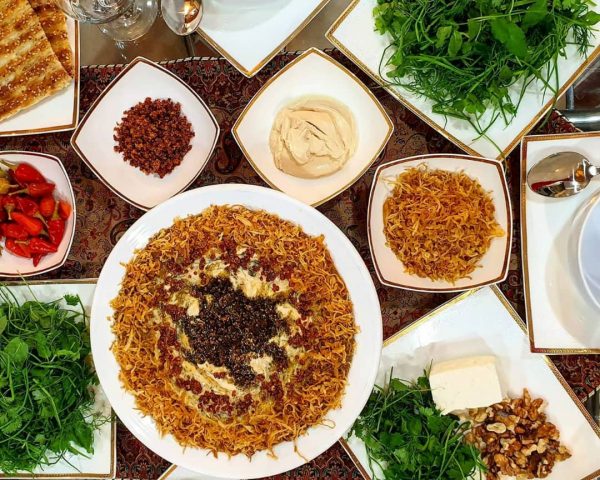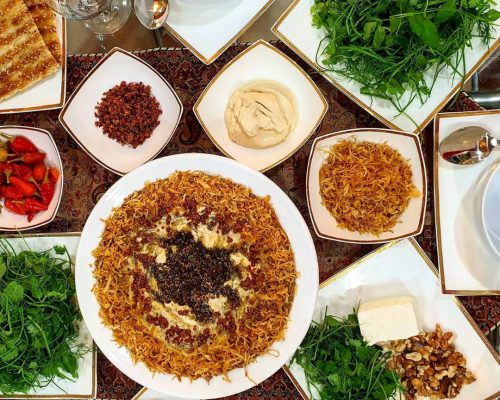 8. Yum-yum! Fesenjan Stew!
Same as Saffron, Pomegranate is also frequently used in Persian dishes. Fesenjan is a stew based with pomegranate juice! Chicken/lamb and walnut are other ingredients.
Stew and rice always come together and make a delightful combination.
Nayeb Restaurant in Tehran, Kohan restaurant in Shiraz, Naghshe Jahan Restaurant in Isfahan.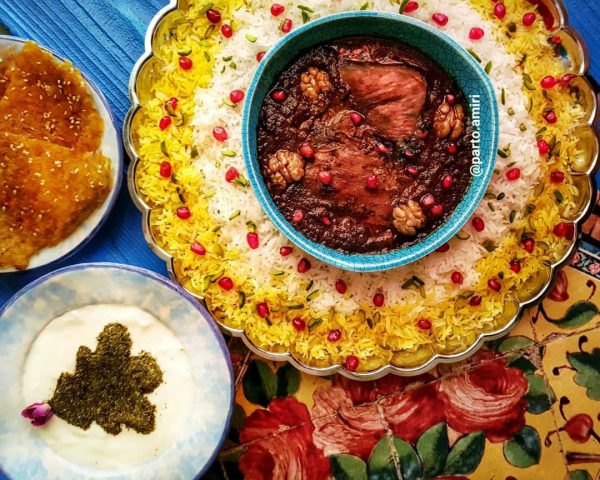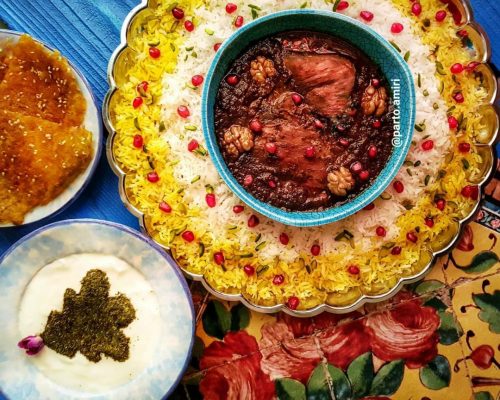 9. Dizi or Abgousht!
The traditional food made in stone crock pots, a unique cuisine of Iran! Abgousht literally means meat stew, but it's not all lamb! It is accompanied with chickpeas, tomato, potato, garlic, and turmeric.
There are some restaurants that only serve Dizi like Dizi Sara Restaurant in Tehran.
10. La Poloyi
La Poloyi is a traditional Persian Nomads Cuisine! A mixture of rice, pieces of chicken or meat! One of the most delicious food you can have in Iran!
It's better to have La Poloyi by Qashqai nomads of Iran, yet in some restaurants, you can enjoy having La Poloyi food.
If you like to have such experience by nomads in Iran, approach us!