Certainly, the best water sports club on Kish Island is Marina Kish, locating on the eastern side of the island. 
Marina Kish is actually a Marina resort with a private section to maintain lux ferries, water activity club, beach lounge, restaurants, and Marina Park plush hotel.
Have a wonderful stay in the luxury Hotel of Marina Park and moreover enjoy a splendid yacht tour, different water sport activities, and feast with delicious foods of Marina Kish restaurants and the beach lounge.
Marina Kish Water Sports Club History:
In 2013 Marina Kish Sports club was founded with 278 parking places for different sized boats and ferries. Marina piers are all made in France, every pier contains several drinking water stations, power plugs, and SOS that are available for boat and yacht owners.
Marina Park Hotel:
A vast area designed with different plants and fountains and in the middle there is the Marina Park Hotel, just in the most eye-catching site of Kish Island. On two sides of the Hotel, the view of the blue Persian Gulf makes there twice beautiful.
Marina Kish Water Sports Club, as the best equipped and most luxurious ocean tourism center in Iran, has the vision of providing high standard services to the yachts in Kish Island. All yacht owners who have rented a boat parking spot in Marina Kish can leave their yacht with ease and Marina Kish takes the responsibility of ferries maintenance in an eligible condition till the yacht owners' next visit.
Plus all the yacht keeping services, the Marina Kish Watersport Club offers various kinds of water activities and sports facilities to Kish Island tourists and inhabitants.
Different sections of Marina Kish:
Yacht Club; at the yacht club, you can join as a yacht owner, receive consultation about yacht rental, buying, and selling. At Marina Kish Yacht Owners club, you will get VIP services in a luxury environment.
Repairing and Maintenance center
Water sport and ferries equipment shopping center
VIP Restaurant
Water Sport Club
Beach lounge with food and drink booths
Marina Kish Water Sports;
Almost all kinds of water sports are available at Marina Kish with all the needed equipment and a supportive team close by the beach lounge and restaurants.
Snorkeling, Diving, Kayak, paddleboard, parasail, sailing, cruise tours, renting a yacht, and a lot more are waiting for you at Marina Kish Sports Club.
Top Water Activities in Marina Kish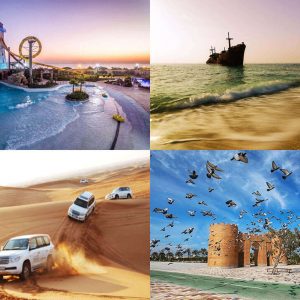 Travelers from all over the world can plan a vacation in Kish Island with a direct flight from Muscat, Oman.
Read More »