One of the most Interesting Iran train travel is from Tehran to the North, passing by the Alborz Mountain and reaching to Savad Kooh. This train excursion takes only one day (16 hours) but leaves a lot of beautiful memories to remember. During this short train journey you can enjoy the beautiful views of the Flat lands, Farms, Mountains, Rivers, Valleys and even the Desert! Besides, the train will have stops to do some trekking in mountain and visit Kango castle, the Qajarid king's bas relief and one of the first Train stations in Iran.
This railway was founded in 20th century, before the Islamic revolution, to connect the North port of Iran (Bandar Torkaman) to the South port (Bandar Imam Khomeini). Now one part of this long rail way, called Golden Line is used as Touristic Train Trip.
[justified_image_grid preset=15 ids=13829,13830,13890]
[justified_image_grid preset=15 ids=13835,13836,13891]
What is the route of Golden Line Train?
Our train Journey starts in Tehran. 6:30 Am, Early in the morning we'll head to the north of Iran, The Caspian Sea. We'll have breakfast on board and meanwhile we find ourselves in the green flat lands of Varamin, Passing by the green fields of Varamin, we will have a view of Iran Desert near Garmsar. After seeing the view of Hableh River, we'll have our first stop, visiting the primary kinds of Train stations, walking around and then we'll continue the rail way to the Kaboutar Dareh (The Valley of Pigeons), Simin Dasht (The flatland of Simin) and Zarin Dasht (The Golden flatland).
[justified_image_grid preset=15 ids=13837,13838,13894]
By closing to the northern mountains, we'll get into the dramatic part of our excursion, which is not only attractive because of the nature and views, but also famous as a primary train station with first rail system industry. In the Shurab Valley we'll take our time to visit the station and nature combining together, there we will hear about the stories and challenges of settling the north rail way and we will enjoy seeing the Shurab Waterfall. On board we'll enjoy the most famous rail system of north, called Versek Bridge, 3 Golden lines and etc.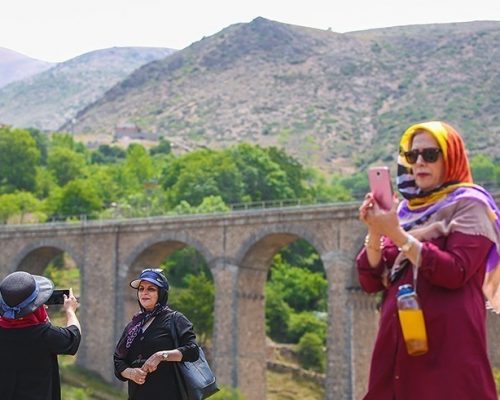 In Versek Station we'll stop to take a memorial picture. While we'll have our lunch on board we'll go ahead to the white bridge. After this half day tour, we take off in Savad Kooh, trekking in the nature and please ourselves with the sense of nature. We'll return on board, going back to Tehran. We'll have a supper on train, and let the sunset view release ourselves and leave us a shining memory in our mind. The train will return to Tehran at 22:15 PM.
This train excursion is one of the most pleasurable rail trips in Iran.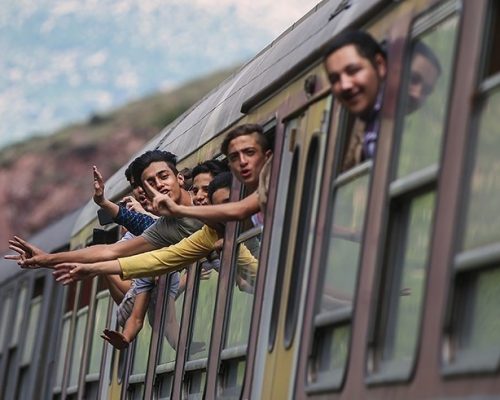 Including Services:
Train journey (Eram Rail Bas)

Breakfast, Lunch, Evening meal and Refreshments

Guide and Insurance
Book this lovely Train Journey Now, our tour operators are online to help you with the booking of this fascinating train excursion.
This Short trip is a very suitable extension for those who like to take a look at North sides of Iran, but don't have enough time.
Tips of Iran Golden Line Train Trip:
Since we'll have some trekking in the nature, bringing sport shows (sneakers), caps, sunglasses, warm clothes and private stuff (such as medicines ) are necessary.